Adult Programs
Adult Programs
Am Shalom offers many ways for adults to learn, to connect and to grow!
Shabbat Supper Club
These are intimate Shabbat dinners that take place in members' homes. They're meant to bring folks together ofer common ages/stages, interests and/or neighborhoods. They're perfect for members who are looking to meet new people. The gatherings are small (8-12 people) so everyone will have a chance to get to know each other.
Some dinners are potluck style, and the host will contact guests about what to contribute. Others might be catered, or the hosts will do all of the cooking. We're always looking for more hosts! We'd love to fill the ccalendar with all kinds of Shabbat Supper Clubs - around interesting discussion topics, shared interests like craft beer or ethnic foods, or dinners for Baby Boomer singles or families with young children. If you'd like to be a host, please contact Alyssa Latala at 847.835.4800 or alatala@amshalom.com.
Dinner with Friends
Make new friends or catch up with old ones! Dinner with Friends meets up every other month at an Am Shalom Shabbat service, then heads out for dinner and great conversation at a local restaurant. We've enjoyed meals at Avli, Once Upon a Bagel, Real Urban BBQ, Backyard Grill, and more!
Am Shalom Makers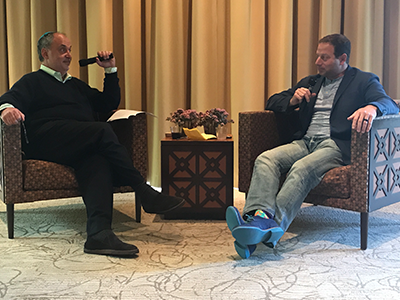 Am Shalom is home to many talented members! Get to know them - and each other - at this monthly "meet and eat." We gather for lunch at 11:30am, then Rabbi Steve begins the interview with our featured member at noon. Last year we talked cannabis, Yelp, Oprah, art and lots more!
Adult Learning
Current Events with Rabbi Phyllis
Join Rabbi Phyllis every Tuesday morning at 10:00am for a discussion on the week's top stories, with a Jewish lens.
Book Discussions
Book lovers! Join us in the Library each month for a lively book discussion.
Yad Squad
Would you like to chant Torah on Shabbat or a holiday? Join the Am Shalom Yad Squad! Contact Cantor Markowicz for more information.
Tue, November 29 2022
5 Kislev 5783
Tue, November 29 2022 5 Kislev 5783