High Holy Days Social Action
Connections for the Homeless serves people of all ages who are homeless or on the verge of losing their homes. Their shelters are in need of bagged lunches. This is a volunteer activity you can do (mostly) in your home.
Volunteers commit to purchasing, preparing and delivering 20 bag lunches to the Connections office in Evanston (2121 Dewey Avenue) between 9:00-11:00am on your selected day. You are welcome to work with friends or family to split the purchasing/preparation/delivery.
Am Shalom volunteers are needed on Tuesdays, Wednesdays and Fridays throughout the month of September.
Please contact Alyssa Latala at alatala@amshalom.com or 847.606.5168 for the complete instructions, and/or to sign up for a slot.
SHALVA is the oldest independent, Jewish domestic abuse agency in the United States. SHALVA carries out its mission by providing counseling, supportive services and community education.
SHALVA's clients are in need, now more than ever.
We are collecting JEWEL and TARGET gift cards for SHALVA's clients. Any denomination is welcome with gratitude. Gift cards may be dropped off in Am Shalom's secure drop box outside of the main entrance, or you may come in and leave the gift card with our security officer Monday-Friday, 9:00am-3:00pm, now through Yom Kippur. Please do write the amount that is loaded on the card.
Student access to technology is more important than ever. We are pleased to partner with Comp-U-Dopt, a non-profit organization working to close the digital divide, to provide essential devices to Chicago students in need.
We are collecting computers (no more than 5 years old), to be delivered to the Comp-U-Dopt warehouse in Downers Grove. Please click here for a full list of what Comp-U-Dopt accepts (and what isn't needed).
Please bring any devices you're no longer using to Am Shalom between September 1-7. Please make sure the devices are wiped and ready for their next user.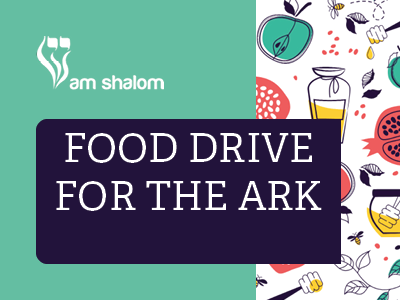 As we do every year, Am Shalom will collect non-perishable food and hygiene items for The ARK. Donations can be brought to the storage shed in our north parking lot beginning September 11. The shed will be there through the High Holy Days.
Please click here for a list of the items most urgently needed.
Prefer to make a monetary donation? Click here.
Tue, January 19 2021
6 Sh'vat 5781
Tue, January 19 2021 6 Sh'vat 5781